SPOILER ALERT!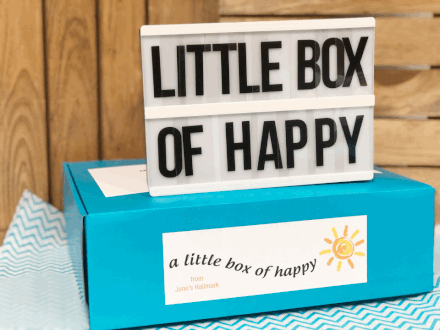 Do not proceed if you want your June Little Box of Happy to be a surprise! We've been busy working with our suppliers to bring some great items together for your June box, and for one time only, we are going to share these products with you, so you can get a feel of the type of items we will be adding! 
This month's box will arrive in this bright, turquoise package, and we think you or whoever you've chosen for this month's BOX will love each and every item! Here at June's we cater to spread kindness, and make your holidays, events, gift giving occasions, and just your regular ol' days filled with happy. We are constantly coming up with new ways to fulfill this promise, and the Little Box of Happy might be our favorite service yet! Here are some ideas for the Little Box of Happy Subscriber:
Do you know someone battling cancer, struggling through chemo treatments, and trying their hardest to stay positive? Or maybe Your niece broke her leg right before the big soccer tournament and wont be able to play? Sending one or all of your boxes is the perfect way to cheer up any type of patient struggling to Get Well Soon.
Surprise a different employee in your office with a different box each month-like a "secret Santa" type of game! Leave a box on a different desk, after hours, and watch the surprise unfold the next morning! It will spread happiness & fun at your workplace, + it will probably make employees more excited to come in to work! 
Now is the perfect time to order because of all of the holidays and occasions coming up! Send one to your Mother for Mothers day, one for your child's teacher at the end of the school year, or teacher appreciation month, one for your assistant or secretary for the upcoming Administrative professionals day in April. 
Do you have daughters who moved away to college? Or overseas fighting for our country? What a great care package to make them smile & feel closer to you even though you may be miles apart. 
What a great gift for your wife or girlfriend? The element of surprise each month will be sure to excite her and fill her heart because of your thoughtfulness. 
OR, how about you just keep all three for yourself. Let's be honest. In today's culture, most of our conversations, news, & information come from technology. Doesn't it give you a sense of nostalgia and happiness to see something arrive in the mail for you? TREAT YO SELF! 
OKAY...so Here it goes, we are about to tell you what is in June's Little Box of Happy. Again, this is the only month we will be spoiling the surprise, so if you would still like to keep it a surprise- STOP READING NOW!!!
-
-
-
-
SOOOoooOOooo here it is! What do you think?? We have reached out to our customers to ask what would be in their ideal Box of Happy, and got great feedback! These are brands you *might* want to expect in the upcoming boxes!
HERE'S WHAT WAS IN THE THE LAST BOXES:
If you are ready for your Little Box of Happy subscription, click here  If you are interested, but want more details, click here. 
AND DON'T FORGET!! GET YOUR FIRST BOX FOR $10 OFF BY USING THE CHECKOUT CODE " HAPPY10 "
comment on the post below with the names of the people you would send your boxes to (or if you would keep them to yourself) OR if you have suggestions/ product ideas for upcoming boxes!