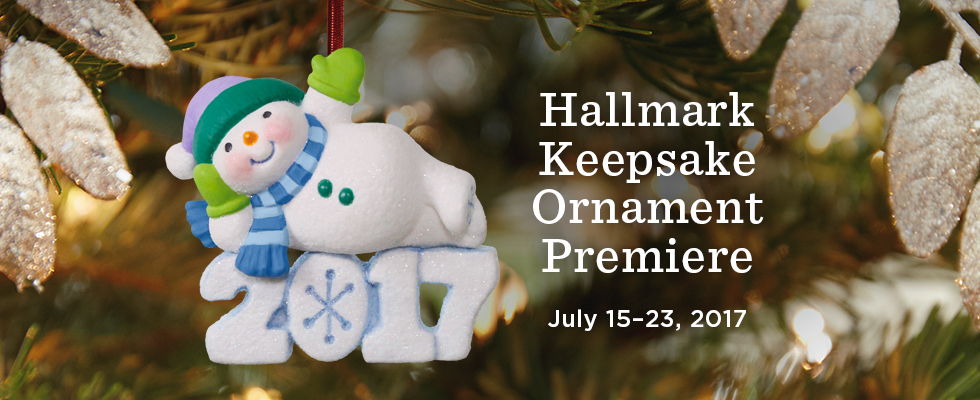 Capture your favorite moments and memories at the first Keepsake Ornament event of the year! Shop over 200 new designs, including limited-quantity and first-in-series ornaments. Get your best Bonus Points opening weekend, July 15–16, when you shop in store or online. Online shopping for select ornaments begins Saturday, July 15, but if you come into your local June's Hallmark, July 15-23 you will have the chance to browse and buy all of the 2017 Hallmark Keepsake ornaments, and the chance to qualify for amazing rewards!
Want a preview of the premiere? Browse the 2017 Keepsake Dreambook now!
---
Prepare for epic Storytellers magic
Experience exciting and innovative technology with our unique Storytellers Keepsake Ornaments. The new technology allows each ornament to give you a fun show on its own, but when other Storytellers ornaments from the set are added, they'll unlock more interactive performances! Just push a button on a Storytellers ornament and it will send out a signal to determine what other ornaments are nearby. Then sit back and enjoy the show!
Keepsake Power Cord | FREE when you buy any Storytellers Keepsake Ornament, July 15–23.
---
$39.95 each
Bring the wonder and fun of the Star Wars Collection to your tree, and relive some of your favorite scenes from Star Wars: A New Hope. Collect them all to unlock even more performances, each one with real sound effects and dialogue from the film. Uses the new Keepsake Power Cord.
Preorder now (online only), or purchase in July: Death Star™ and Darth Vader's TIE Fighter™
Available in October: X-Wing Starfighter
July 15 only—register at your local Hallmark store for a chance to get a limited-edition set before anyone else!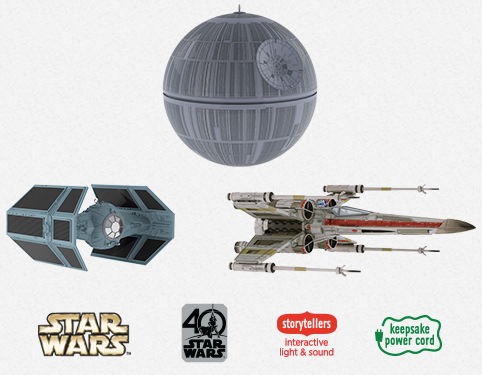 ---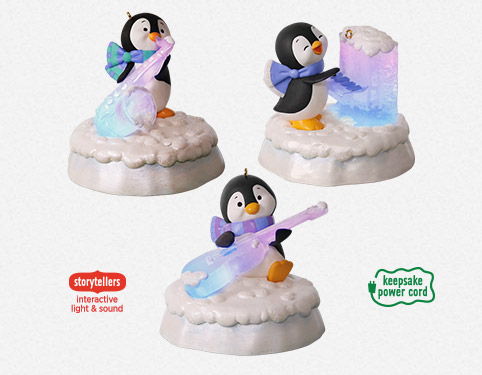 $24.95 each
These Merry Music Makers complement one another as their lights and songs come to life with our new Storytellers technology. Let the little guys entertain you on their own, or hang all three for a full show. The cool pink and blue colors make any tree a little more festive. Uses the new Keepsake Power Cord.
Available in July: Groovin' Guitar and Swingin' Sax
Available in October: Playful Piano
---
---
Lots to love in limited quantities
In stores only, you'll want to hurry in to get yours during Keepsake Ornament Premiere! One per customer while supplies last.
Check out the slide show below for a sneak peek at just six of the limited quantity ornaments! Hurry to your closest June's Hallmark to get your hands on the full collection of limited quantity Keepsake ornaments
---